Stretch Your Food Dollar: Grown Up Fudge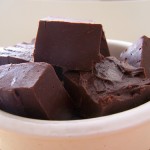 If you're in a rush to get some last minute gifts together, either for a friend or a coworker, or you just want to get down with your bad self in the kitchen, fudge is an awesome holiday present. Although the fudge is easy to prepare, you do want to budget enough time for the candy to cool before you cut it and package it up. I would plan to make the fudge the night before you plan to give it away.
Here's a recipe for grown up fudge. Just a few tips before you get started. For starters, use a larger saucepan than you think you will actually need. Think twice as big. The first time I made fudge, I ended up with hot chocolate lava all over the stove, counter, and kitchen floor because I didn't use a big enough pan.
Second, you're going to need a kitchen thermometer that reads up to 236°. (This is not the same kind of thermometer that you use to take your temperature.) You should really consider keeping one in your kitchen, anyway, so that you can ensure that you're cooking meat to the proper temperature. Maybe you already have one with your BBQ grill. If you're got a digital thermometer, you won't need to calibrate the thermometer before you get started. The easiest way to calibrate your thermometer is to stick it into a glass of ice water and set the needle to 32° when the needle stops moving on its own. And always make sure you sanitize your thermometer before and after each use.
OK, now for the good part: the fudge! Oh, did I mention that this recipe is vegan?
Grown Up Fudge
2 cups sugar
1/4 cup liquor
1/2 cup soy milk
2 ounces unsweetened chocolate, cut up
1 tsp light corn syrup
1/8 tsp salt
2 Tbsp soy butter
1. Line a 9″x5″x3″ loaf pan with foil or wax paper, extending it over the edges of the pan. Spray with nonstick pan spray and set aside.
2. Spray the sides of a 2-quart (or larger) heavy saucepan. In the saucepan, combine the sugar, soy milk, liquor, chocolate, corn syrup, and salt. Cook and stir over medium heat until the mixture starts to boil. Reduce the heat to medium-low and continue to stir while cooking.
3. Place your thermometer in the chocolate mixture and keep cooking until the mixture reaches 236°, stirring constantly.
4. Remove the saucepan from the heat. Add the soy butter, but do not stir. Cool, without stirring, to 110°.
5. Beat the mixture vigorously until the chocolate begins to thicken, and the chocolate begins to lose its gloss.
6. Immediately spread fudge evenly in the prepared loaf pan. Score into squares while the chocolate is still warm. When the fudge is firm, use the foil/wax paper to lift it out of the pan. Cut the fudge into squares following your score lines.
You can use any liquor that you think would mix well with chocolate. Kahlua or coffee-flavored brandy is an obvious choice. Butterscotch or strawberry schnaps, raspberry-flavored vodka, and Grand Marnier also mingle well with chocolate. If you really wanted to splurge, you could go for some Chambord, but that would really be going overboard on the holiday spending. Maybe it's best to wait for that until Valentine's Day.
Try garnishing each piece of fudge with something that clues the recipient into your secret ingredient. You could use a whole coffee bean for the Kahlua fudge. For Grand Marnier, a few shavings of orange zest would do. It's best to garnish the fudge before the chocolate is totally cooled, because then the garnish sticks to the candy.
This recipe will make 24 pieces of fudge. You can package it up several ways. One cute idea is to put it in a coffee mug, but you could also put it in little tins that are available in the dollar bin at your local craft store. Another simple idea is to put it in a sandwich bag (not the zipping kind – the kind you fold over), then tie it shut with curling ribbon or some raffia.
I hope you enjoy your grown up fudge, and that the special someone you give it to does, too. Happy holidays!