Stretch Your Food Dollar: Regroup and Recommit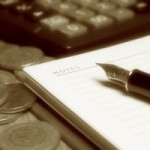 As the New Year approaches, many of us are reevaluating our budgets, looking at our goals from the past year, and setting resolutions for the year to come. Maybe you stuck to all of your goals, and maybe you fell off the wagon near the end of the year. Either way, January is a great time to recommit to fiscal responsibility.
Setting a food budget is an important part of your overall budget. Unlike your rent, insurance, or cell phone bill, your food budget is unlikely to be a fixed amount each month. You have more flexibility with this spending category, but that can be both a pro, and a con. How do you decide what a realistic number is for your household's food budget?
Each year the USDA compiles statistics about the average cost of food in the US, and it offers guidelines for families to help them set a realistic food budget. In 2009, the average household of two probably spent $350 – $450 a month if they were on a thrifty or low-cost eating plan.
My partner and I set a goal of spending $350 a month on food, and we did pretty good until October. Then life got pretty hectic. I got a job working outside of the house, and my partner had classes two nights a week. Eating a home-cooked meal every night was a big challenge. Even with the best of intentions, we went over budget several times due to eating out once a week. I'm looking forward to regrouping and recommitting in January. When I actually take time to plan the week's meals, taking the week's schedule into account, it makes it much easier to plan for late nights.
If you're in the same boat as me, how about recommitting to track your expenses? Using an Excel spreadsheet is a simple and free way to track all of your expenses – you just need to remember to get a receipt for everything you buy. If a receipt isn't available – because you bought something from the vending machine, or from the taco vendor off of the street – then keep a little notebook in your purse so that you can make a receipt for yourself. Enter all your receipts into the spreadsheet on a regular basis – like on Sundays over coffee and the Sunday paper – and it's easy to see if you're staying on track with your spending goals.
Here are a few simple tips from previous Queercents articles to help you stretch your food dollar and stay on target with your family's food budget.
1. Never grocery shop when you're hungry – you end up buying more.
2. Always shop with a list, and stick to the list.
3. Scout the weekly food ads to find out which store has the best deals.
4. Pay attention to coupons and see if your grocery store offers double coupon days or will honor competitors' coupons.
5. Avoid buying products on the end caps, as well as pre-prepared convenience foods. The best deals are going to be found in the produce, meat, and dairy sections. Cooking whole foods isn't just cheaper – it's healthier, too.
Here's to your financial health in 2010!
Photo credit: stock.xchng