Stretch Your Food Dollar: Searching for Culinary Inspiration
Do you ever feel like you're uninspired in the kitchen? I've written about getting into a food rut before, but this is a constant challenge that all home cooks face from time to time. Food ruts can be dangerous, because it's easy to start relying on convenience foods and restaurants to fill the void – and there goes the food budget.
One of my goals for 2010 is to try at least one new recipe each week. So far, I've been exceeding my goals. I'm so excited about trying new recipes that I've been making 2-3 new things each week. I'm still in the honeymoon phase of my New Year's resolutions, but I think this one's going to stick.
I think that one of the biggest hurdles that people face when they start cooking for themselves is the overwhelming fear that you're going to fail. Don't worry if a recipe doesn't come out great – you don't have to be perfect. Even experienced cooks make mistakes. Last week I made bowtie pasta with pesto and peas. Not the best thing I've ever eaten, but at least I tried something new. If you make a dish that doesn't turn out the way you anticipated, just move on – it's not the end of the world!
Some of the other new recipes I have tried include vegan mac and cheese, cranberry and walnut cookies, and chocolate chocolate chip cookies with bacon (don't knock it until you try it). I have been sitting down once a week to look through my cookbooks, pick out recipes, write out a meal plan for the week, then make my shopping list. I literally write the meal plan on my kitchen calendar so that I don't forget what's happening, and it really helps me stay on course.
Tonight's new recipe is called "neat loaf." It's a vegan substitute for meatloaf that has mushrooms and walnuts instead of meat. I modified this recipe from The Peaceful Palate, by Jennifer Raymond. It's gluten free, and if you omit the soy sauce, it's also soy allergy friendly. I served it with mashed potatoes and lima beans, and boy, was it tasty!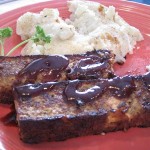 Neat Loaf
Makes 8-10 servings
2 cups cooked brown rice
1 cup walnuts, finely chopped
1 cup mushrooms, finely chopped
1 onion, finely chopped
1/2 red bell pepper, finely chopped
2 carrots, shredded or finely chopped
1 cup quick rolled oats
1/2 tsp each: thyme, marjoram, sage
2 Tbsp soy sauce
2 Tbsp mustard
BBQ sauce or ketchup
Preheat the oven to 350 F. Combine all of the ingredients except the BBQ sauce/ketchup. Mix until well combined. Pat into a lightly-greased loaf pan. Top with BBQ sauce/ketchup. Bake for 60 minutes. Let stand for 10 minutes before serving.
This recipe was so easy to make. I just put my ingredients in the food processor to chop them all up, and the rice was leftover from a previous meal. If you don't have leftovers that you need to use, why not throw this in the rice cooker while you prep all the other ingredients? And speaking of leftovers, you could use leftovers to make a tasty neat loaf sandwich to take in your lunch the next day. Double bonus!
Enjoy!
Photo credit: stock.xchng