iPhone App Can Deposit your Checks from Chase and USAA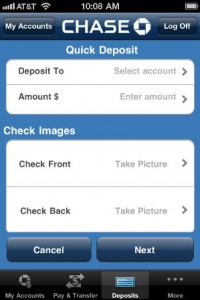 This is something I have been waiting on for years as a gadget geek that I am. Chase, I felt would be last in the game to this especially if USAA beat them a year ago. Chase finally caught up and decided its not just for government employees or service members or people who are part of a union with USAA it is now for everyone who banks at the nations biggest bank. With USAA they have already had more than 1.5 million checks and $940.8 million in deposits submitted.
Chase is about to change the game with their iPhone App that is easy to sign up and there is a Chase bank anywhere if you need help making this deposit. All you really need to do is download the Chase App onto your iPhone or iPod Touch and then make sure you have your username and log-in. It will then ask you for a auth code in which they can text or email you and then you have to sign back on again if you get off that screen to obtain this code. This was somewhat a hassle because I kept signing out. I do wish there was a way to keep things signed in on the Chase App. Even when you goto a call it will sign you out and you will have to retype all that again.
This process works must faster than scanners because most computer scanners are this big beasts that sit at your desktop that take forever to load and print and sync over to your computer. My HP takes a good few minutes to finally get the scanned image up on my computer screen then it slowly saves it as a file for me to send over to Everbank when I was using their service. One of the reasons I quit using the Everbank check deposit was my scanner was too slow.
The new Chase App could not only change the banking game significantly by making deposits more convenient but get them more fees at ATMs if we are not getting cash out when we get deposits made at the bank. It will cut down on our trips to the bank and you will probably see bank closings from this.
Another great feature from the Chase App is being able to send money to another person who has an email address. This is a QuickPay service that is also free and similar to Paypal's ZashPay. The even more amazing thing is that Chase is not charging either receiver or the sender of them money and you do not have to be an account holder if you are receiving the cash.
You can throw your scanner out now that you have this app.