Stretch Your Food Dollar: Lunchtime Extravaganza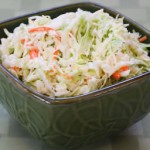 Clint mentioned last week that he's been bringing his lunch to work in order to stretch his food dollar. He's a smart cookie. If you figure that the average lunch costs around $10, you could be saving $50 a week by bring your lunch to work. The challenge with bringing your lunch is that lunchtime can get kind of ho-hum if you just bring a sandwich or a frozen meal every day.
I'm a big believe in sack lunches. I've shared recipes with you all in the past for soups, salads, and sandwiches. Here are a few more salad recipes that actually get better after being in the fridge for a day or two. Make up a batch on Sunday night, for example, and you'll have lunches ready to go for Monday and Tuesday. Both recipes are vegan-friendly, but anyone will enjoy these flavor-packed dishes.
Black Bean Salad
1 can black beans, drained
1 red bell pepper, seeded and minced
1 green bell pepper, seeded and minced
1 can corn, drained
3 green onions, minced
1/2 cup minced cilantro
1/2 Tbsp olive oil
juice of 1 lime (or lemon)
salt and pepper to taste
1. In a medium mixing bowl, combine all of your ingredients. Stir until everything is evenly distributed.
2. Pack about 1 cup of salad in individual plastic containers. Store in the fridge until ready to serve.
After making this recipe, you may decide that you like more/less onions or cilantro. Adjust the recipe according to your own taste buds. The kitchen is, after all, your own creative work space.
Vegan Coleslaw
This recipe calls for vegan mayonnaise, but regular mayo will work just fine.
1 pkg coleslaw mix
1 cup vegan mayonnaise
juice of 1 lime
1 tsp apple cider vinegar
1 tsp Splenda
salt and pepper to taste
1. In a medium mixing bowl, whisk everything together except the coleslaw mix. You may need to adjust the taste by adding more/less of the Splenda or vinegar, depending on your own preference, so add these ingredients a bit at a time.
2. When the dressing tastes good to you, add the coleslaw mix and fold the ingredients together until the vegetables are evenly coated with the dressing.
3. Put 1 cup of finished coleslaw in individual plastic containers. Store in the fridge until ready to eat.
These recipes are quick, cheap, and easy additions to anyone's lunch bag. However, I wouldn't store them in the fridge for more that 3-4 days, so just make one batch of salad at a time.
Next week I'll be sharing ideas for utilizing leftovers in your lunches. What are some of your favorite salad recipes to use in lunches? I'd love to hear from you in the comments section.