Ten Money Questions for Robert Maril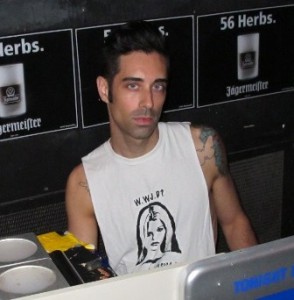 1. You're the founder of 21st Century Life with promoter Austin Helms. What gave you the idea to do that?
Honestly, the idea for our first party came about before our company did.  The seed that sprouted into 21st Century Life began as an idea for a knock-down drag-out party in the West Village.  We soon realized, though, that there was a lot more to throwing parties than just finding a venue and pushing "play" on a boombox…
2. Your venues and events are especially popular for breaking with traditional high cover club promotions. Do you think that's what brings in such a unique crowd?
I don't think that it's just the fact that our parties don't have a cover–I think it's what we provide overall.  We stress a completely inclusive, no-attitude, no-bullshit vibe, and I play music that you're not going to hear a lot of other places–old-school disco, Robyn, Gossip, Roisin Murphy, punk…
3. Do you have a day job or are you DJ Executive Realness full time?
I definitely have day job(s).
4. What's your day job?
I'm an administrator in clinical research at a leading hospital here in New York, and I also sing in a professional choir.
5. Does your day job dovetail into what you do, or do you keep the peanut butter and the chocolate separate?
I tend to keep things separate–they know that I DJ, but they don't know that I DJ wearing, like, short shorts and a mankini.
6. What tips can you offer a young queer moving to New York City who likes to go out?
Try everything to see what kind of crowd suits your taste.  When I first moved here, I made the mistake of only sticking to the big, established places–places where I never felt like I really fit in.  It wasn't until I'd been here a few years that I discovered, Oh, I guess that there are places where I don't have to have muscles bulging out of my Diesel jeans and Armani Exchange t-shirt…
7. Do you have a retirement portfolio?
That's one of the perks of my day job.  I regularly contribute to my 403(b), and have an actual, honest-to-God savings account.  (I guess it's also one of the perks of getting old.)
8. Which do you think is more important: accessibility or rent?
Well, that's not an easy answer.  When I found my new place, I knew that I wanted to stay in Manhattan, and I knew that I wanted to be below 100th Street, and I knew that I wanted to be in walking distance of my day job.  Luckily for me, that was all doable within my price range.  That being said, you definitely don't want to be house rich and wallet poor.  What's the point of living in the West Village if you can't go to Spotted Pig?  Do you know what I mean?  I say, if Astoria is what you can afford, live in Astoria.  It's hardly a compromise.
9. What would you tell someone who wants to do what you do?
Step off, bitch.  No, seriously, I'd tell them to finely hone their musical ear and start collecting music like they were starving for it.
10. You're also a noted singer and actor. How do you balance your work life, your night life, and your art?
I don't want to say that all those aspects of my life are segmented, because that sounds so clinical(ly insane).  But they are, to an extent: I have a regimented schedule that I stick to–I know when I'm supposed to be practicing, at rehearsal, at work, and in the DJ booth.  It also helps that whenever I'm most exhausted (which is often), I can look at all these things I've exhausted myself with and say, "How amazing is this?  How many people get to spend their lives doing what I'm doing?"