Stretch Your Food Dollar: Trim Back on Thanksgiving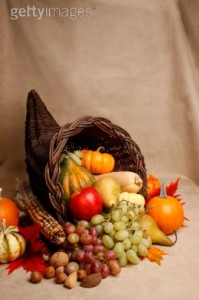 Thanksgiving is right around the corner, and many of us are looking for ways to keep our food expenditures down on a holiday built around gluttony. In fact, a new poll from First Command Financial Services reveals that 40% of Americans are tightening up the belt this year at Thanksgiving. CNN Reports that:
"People are looking at areas in their life where they do have some control over the spending and Thanksgiving is one of those areas where people can go overboard," said household savings expert Jeanette Pavini.
If you're one of those families that is either cutting back, or a family that always looking to stretch your food dollar, here are a few tips to help you stick to a budget this Thanksgiving.
1. Keep your guest list short. I love a big party as much as the next gal, but cooking for a large crowd is both resource intensive, as well as time consuming. Limit the number of invitations you extend, and you'll see the benefits add up at the cash register.
2. Go potluck. In years past, I insisted on doing all of the cooking at Thanksgiving. I love to cook for others, and Thanksgiving was the perfect time to go all out with my culinary prowess. No more! If you're hosting, offer to make the turkey and one or two key side dishes, but ask your guests to bring a favorite dish. Aunt Marjorie will be so flattered when you ask her to bring that green bean casserole of her that you love so much.
3. Shop in advance. Don't put your shopping off until the day before Thanksgiving. The main reason to shop ahead is that the lines will be much shorter. The second reason is that you can price shop, and you won't spend $2 for a can of pumpkin just because you're in a jam. For non-perishables like stuffing mix, canned vegetables, yams, and potatoes, you can shop a full week in advance and limit your week-of shopping to bare necessities.  Shop with a list, and don't get distracted by items that aren't on your list.
4. Omit the alcohol. Believe it or not, you can have a wonderful meal without wine or beer. I know it's hard to imagine watching football on Thanksgiving without some tasty beverages, but if you stick to cheap drinks like iced tea and water, you'll really keep your food expenses under budget.
Check out these previous Stretch Your Food Dollar articles for Thanksgiving tips, including how to use up all those turkey leftovers.
If you've got some favorite recipes that you bust out at Thanksgiving, I'd love to hear from you in the comments section.  And if you've got more tips and trips for stretching your food dollar at Thanksgiving, be sure to join the discussion!