Buy Local This Holiday Season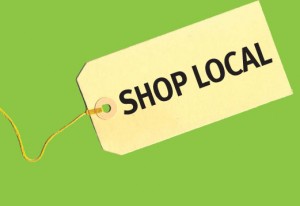 Many of us cashed in on killer deals on Black Friday – one friend told me she got a new laptop at Best Buy for only $199. With the big box stores slashing prices in an attempt to lure in customers, it's easy to give into temptation. But as we head into the holiday shopping season, local retailers are asking shoppers to buy local, rather than online or from the big chain stores. In fact, last Saturday was dubbed Small Business Saturday, as a piggy back on Black Friday and Cyber Monday, in an effort to highlight the importance of supporting local businesses. Buy Local Week (which is an initiative of The Business Alliance for Local Living Economies) extends that mindset by encouraging people to support small businesses from November 26th – December 5th.
Shopping at small businesses provides several benefits for local economies.  For example:
For every $100 spent at local businesses, $73 returns to the community. When you shop at a non-local business, only $43 returns to the community.
For the past 10 years, small businesses have accounted for 60%-80% of new jobs created.
Small businesses generate 75% more tax revenue for state and city budgets than non-local businesses.
Small businesses also account for 50% of the US's non-farm GDP.
Those are quantifiable impacts.  But there are other intangible benefits to consider. 
For instance, locally owned businesses are likely to stock items that cater to local preferences.  I live in Tucson.  We've got a pretty funky flavor here – must be all the desert heat.  If you're looking for Christmas gifts that have a Dia de los Muertos motif or some prickly pear jelly, then Tucson's the place for you. But you won't find javalina baby booties in the local Wal-Mart. You'll have to go to a Tucson-owned business to find the unique holiday gift you're looking for.
Local businesses are also likely to provide excellent customer service, because owners know that they need to cater a loyal customer base. At my two favorite restaurants, the owners know my name, and they remember my order. I've never had the same level of service at a chain restaurant.
Local business owners are also likely to support other local businesses for services such as window washing, accounting, landscaping, etc. They're also more amendable to contributing to local charities and supporting schools in their neighborhoods. There really is something to be said about "keeping it in the family."
If you're all about finding the best deal possible, try subscribing to coupon services like Groupon, which support small businesses in your area. In Tucson, we have the Tucson Originals site, which allows you to buy gift certificates and coupons for Tucson restaurants at substantially discounted rates. For example, I have purchased $25 gift certificates for only $1. You don't have to shop at one of the national chains to get a good deal, but you do have to do a little research on the internet to find the best deal in your city. Start out by typing "shop local" and your city's name into Google, and I'm sure you'll discover some awesome websites.
What's your opinion about Small Business Saturday and Buy Local Week? Are you a proponent of supporting local businesses? Or will you focus your holiday shopping on the bigger chains or internet vendors? I'd love to hear from you in the comments.