Ten Money Questions: Grindr CEO Joel Simkhai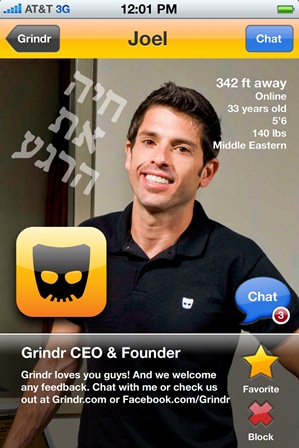 Ten Money Questions has always been my favorite part of Queercents and I am honored to do this edition.  We we will focus on a gay business owner. I recently had the opportunity to interview the Grindr CEO Joel Simkhai. Grindr is an iPhone (or iPod or iPad) app that helps gay guys meet people near them which is a breakthrough app if you ask me. This apps brings a way to meet new friends, find new dates, or hook-up with someone close by without having to log on to a computer. If you are traveling it really comes in useful to see if any gays are staying at your hotel and find out what clubs to hit up. There are tons of questions I could ask the CEO of Grindr but I tried to focus them as business related as I could and not the shirtless guys on the popular app.
1. Your iPhone app has changed the Personals scenes in a way we thought could never happen. Do you think that a Gay.com, Manhunt or a Adam4Adam will try and buy you up?
We aren't looking to sell our business, we've received several offers and have turned them all down. Our free service (Grindr) is fully operational and we also have a fully operational premium service called Grindr X(tra), with extra features like push notifications, profile swipe, no ad banners, and more guys viewable (200 vs.100 in the free version). We've just gotten started in our goal of making meeting easier, and we have a lot of exciting plans for the future.
2. Tell us a bit about you. What education background or work experience led you to develop this innovative app that helps us connect with other nearby gays?
I was born in Tel Aviv in 1976, the middle child of three sons. At the age of three, I emigrated from Israel with my family to New York, where I was raised. In 1998, I graduated Tufts University, earning a Bachelor of Arts degree in a double major of International Relations and Economics. I then went on to work in several different fields, from finance to a news desk to a start-up, before starting my own Internet marketing firm in 2003. After establishing the business, I decided to move to Los Angeles for a change of scenery in March 2008, and that's where I started developing Grindr.
The key driver in creating Grindr wasn't any of those things, but my frustration with existing online ways to meet guys. Throughout my life and career, I have always been looking for a better way to meet the people around me. After many missed connections and lost opportunities, I decided there must be a better way to find new people and friends around. Grindr has made it easier for me to meet people that I may otherwise have missed or never spoken to at all. It's also great that I can now go to any major city in the world and instantly meet locals. No computer needed, no need to create a new account somewhere. I also feel great knowing that we've facilitated countless new connections that hopefully have brought our users more joy in life. I love being a matchmaker and knowing we're bringing people together.
3. Do you plan to develop more apps and go public with your business?
At this time there are no plans to go public. We do have several projects in the works – more on that below.
4. Do you use rewards credit cards to get cash back on your business purchases?
Yes.
5. What type of expenses do you have to worry about the most with your business?
Right now the largest expenses are in development. The revenue that we receive from advertisers and users who purchase Grindr Xtra (our premium version) goes straight into developing new features and new versions to expand the Grindr experience. Our second largest expense is our servers. We have about 250,000 users who use our service each day and on average they spend 1.5 hours daily on the service. This level of usage requires a lot of server processing and bandwidth.
6. Do you think Android or iPhone will win out in the Smartphone war?
I think it's too soon to tell and I am not sure there will be one winner – I suspect there will be two or three leaders. Both have their strengths and weaknesses; I think they will both remain very strong in the years to come, but if anyone has to win it's going to come down to who has the best service and ease of use.
7. What city is growing the most users on Grindr?
Currently our number one city is London with about 75,000 users, followed by New York (57,000) and Los Angeles (36,000). We have over one million users in 180 countries worldwide, with our numbers growing daily as more guys download the app.
8. Grindr seems to do a ton of promoting with Nightclubs. Have you been seeing a good response from this from the club and Grindr?
We have had a lot of positive feedback from our users and the clubs/venues about Grindr parties. The parties reinforce the Grindr experience in that they bring people together that share common interests and facilitate new connections. People like to see the Grindr brand out in public, and a Grindr party is a great way for a guy to go somewhere, get on Grindr, and see lots of guys pop up that are in the immediate area. From the feedback we receive, Grindr users have a great time going somewhere new and logging on to see who is in the area – and showing other people that don't know about the application how cool it is.
9. What big events do you have planned for 2011?
We currently have several projects in the works based on the feedback we receive from our users at Grindr.com/suggest and through chatting with our users at parties. In future updates, new features will be added to expand the Grindr experience, and we also want to expand Grindr to other mobile platforms. We are in final stages of beta testing for Grindr for BlackBerry devices, and BlackBerry users can sign up at Grindrberry.com to be notified when it's released to the public and get invited to be beta testers. Android users can sign up at Moregrindr.com to get the latest updates on new developments.
10. What do you say to other GLBT Entrepreneurs who want to develop an app where should they start with the process and who can they trust to get it done?
I would say the first step is to find a developer (or developers) that you trust that is/are familiar with the iPhone SDK, which is the software language to write these apps. Then you can begin the process and see how much funding you will need to develop your ideas and start working together to create an app. Start off small until you know there is demand for your service and be sure there is a way to generate revenue early on.