Costs To Expect for a Fabulous NY Gay Wedding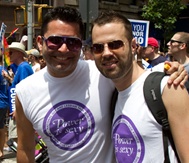 Gay weddings have been legalized in New York City, so it's time to start planning your big event. You can go as extravagant or as basic as you want, but there are going to be some unavoidable costs as well as a few that you can splurge on. New York City is expensive, but there are plenty of ways to save on some things so that you have more money for the fun ones, like releasing butterflies!
The first thing that you need to do is consider the ceremony. Churches are still very unlikely to hold an LGBT ceremony, however you can legalize the event anywhere – in the park, in a friend's backyard or at the reception site. You can hire a minister to perform the ceremony, which is around $100 and up, depending on whom you get. There are ways to personalize your vows and save a little money, too, by having a good friend or relative become an ordained minister. Some online places will charge around $30 for becoming ordained.
The bride and bride or groom and groom will also need some attire. These can be rented, bought or you can simply where what you have. Tuxedo rentals cost around $100 for the weekend and if you shop it right, the dress can be around the same price.
Flowers are always a great addition to the ceremony, too. Whether it's a bouquet for the blushing bride (or groom) or boutonniere for the groomsmen, you can find florists throughout the City that will accommodate your needs. Your flowers can be carnations, roses or even orchids. Pricing out florists is critical to saving money because they don't all charge the same and they don't all offer the same flowers.
Once you have the details for the ceremony down, you can stop there or keep going for some more fun. As you walk down the aisle as a couple, you can have flower petals tossed, rice thrown or butterflies released. Many think that butterflies are very exotic and therefore cost a lot of money. It only costs a lot if you have thousands released. If you just want around a hundred released, you can find great deals around $150 or so, depending upon the vendor and the time of year.
Now it's time to move onto the reception if you are having one. Again, this can be as simple or as dramatic as you want. Because it's New York, venues book fast, especially the really good ones. There are some, like the Four Seasons, that are booked over a year in advance. Others can be booked around three or four months in advance. Most are expensive, however you can also save by having it by traveling outside the city a little or going into a friend's backyard.
The reception can be kicked up a notch with live music, a DJ, or a friend that has an iPod and a great sound system. Depending upon which method you are going with, you can plan on adding upwards of $750 to your budget. Having some sort of music is important if you want to be able to do the traditional things like first dance or even just let everyone kick off their shoes and do a round of the Electric Slide or more likely a dance to "Time After Time" by Cyndi Lauper or "A Simple Love" by Melissa Etheridge.
Food is always nice at a reception, but depending upon what time of day it is, you can get away with offering lunch instead of dinner or even just appetizers. You can have it catered or have a friend cook. Either way, this is going to be upwards of around $15 per person, depending on how involved the food is. There are some venues that will be $150 per plate if that's the route you choose, as well.
No union is complete without a cake, too. Bakeries in New York City need at least two to four weeks in advance to make anything more than your basic 9" cake. A cake that feeds about twenty people will be around $100 and can steadily increase from there and can get into several hundred or thousand dollars if you add any fancy decorations.
Your New York City wedding can cost around $1000 or $50,000. It all depends on how many guests you are inviting and how fancy you want to make everything. Now that it's legal, it's time to start planning.