LGBT Credit Cards: A Closer look at Olivia from BOA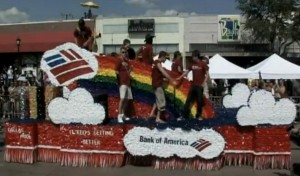 Looking for the best credit card for lesbians? An option you may want to assess and review is credit cards from Olivia Company. Maybe you are wondering, why choose Olivia and not just opt for one that provides similar benefits for you and your partner, right? Read on as we discuss what Olivia is all about and what it can offer the lesbian community.
Established in 1973, Olivia was originally a women's record label company; however, as time passed by, Olivia companies that were situated in San Francisco evolved into one of the leading names in lesbian travel, providing lesbians a unique travel experience for their cruises, eco-tours, luxury vacations and resorts. As of today, the company has been considered as the biggest advertiser of lesbian travels and cruises worldwide. The company has acquired enormous vessels, hot spots and tours widely ranging from affectionate boutique cruises in the Galapagos Islands and France to voyages around the Caribbean Islands on vessels that hold more than 2,000 women. The company offers women with various options that they can opt to venture out to in solo or with a partner.
In terms of their popularity, the world renowned company has catered to big names in the industry including Melissa Etheridge, Heart, the Indigo girls, Rosie Jones, Whoopi Goldberg and Lily Tomlin. Inside the cruise lines of Olivia, clients can enjoy their trip further with entertainers, singers, comedians and performers who have claimed a spot as a member of the Olivia family. Activities have also been launched by the company such as Sisters at Sea and Sisters at Play that were created for lesbians of different color or race along with their friends.
Olivia also hosts solo or singles activities on-board their cruise line for women who are traveling alone so that they can meet up with others for dinner meals, excursions and special events that are designed specifically for them. With regards to their influence, Olivia.com has achieved a powerful presence over the internet within different lesbian communities worldwide. Furthermore, the website has played host to connect various lesbian groups together regardless of their location. With Olivia lesbian communities, they are able to mingle and chat with their fellow lesbians from all over the world.
With the use of an Olivia credit card, the person can earn points when booking trips, cruises, upgrades, air travels and more. This is made possible with the limited edition Olivia 35th Anniversary Visa credit card with WorldPoints rewards. Clients will be able to get discounts on their vacation trips, travel on primary US airlines without any blackout dates and obtain concert tickets, branded products and gift certificates from leading retail companies. For those who are planning to apply for an Olivia credit card, simply check out their website to view the details of the application process. If they wish to, clients can also join lesbian communities online based on your location to meet new friends and a possible partner. From their website, clients may also view latest hotspots, events and other special occasions that they or their partner is interested of joining.