Comparison of Best Gas Cards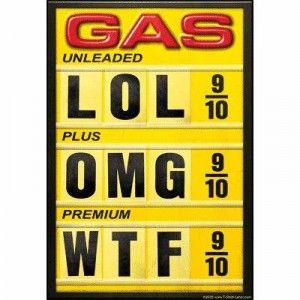 Summer is nearly here and it's time to begin planning summer vacation. With gas at an all time high, it may be wise to consider a gas card – unless you've budgeted a few extra hundred dollars aside. If not, and you opt for the gas card, be warned there are many options. When deciding which is best suited for your personal needs, one should first determine which factors are most influential. This article will review some of the best gas cards available on the market by lowest fees, best introductory APR offers, lowest APR, and most rewards on gas purchases. We will compare the Shell Master Card, Discover More Card, Chase Freedom Card, Blue Cash Everyday from American Express, Citi Thank You Preferred Rewards Card, and Capital One's Cash Rewards Cards for excellent and average credit.
LOW FEES
If you don't like the idea of paying to use a gas card, good news, all but one of these cards have no annual fees. The sole culprit is the Capital One Cash Rewards Card for average credit with a $39 annual fee. Still, it isn't unusual for cards willing to accept those of us without perfect credit to charge such fees.
INTRODUCTORY APR
The introductory APR is often the deal breaker for many. If you acquire a gas card shortly before taking your summer vacation you may be able to pay no interest on all gas purchases made during the vacation. The Discover More Card offers such a promotion, charging 0% APR for the first fifteen months. That's right! Discover gives you over a year to repay before charging you. The Blue Cash Everyday charges 0% APR for twelve months on purchases – another fantastic feature. The Capital One Cash Rewards cards for excellent and average credit charge 0% APR until March 2013 and December 2012 respectively. This isn't bad, but it's definitely not the best promotion available. Neither the Chase Freedom Card nor the Citi Thank You Preferred Rewards Card offer introductory APR promotions. Instead the Chase card will give you a $100 to $200 cash bonus after you make $500 in purchases in three months. Citi will give you 250,000 points after you spend a whopping $2000 in three months. Those points can then be redeemed for a $250 gift card.
REWARDS ON GAS PURCHASES
The Shell Master Card will give you 5% cash back on Shell gas. But if you can't find a Shell gas station, expect to receive just 0.5% cashback. If there are no Shell gas stations along your route, a Discover or Chase card may be the better bet. Both give 5% cash back on gas purchases from July through and including September. Blue Cash Everyday offers 2% cash back at gas stations. Both Capital One cards give 1% cash back per dollar spent on all transactions. Instead of cash back, Citi gives points which can be redeemed for rewards, giving one point per dollar spent.



APR
The last though not least deciding factor in determining which card is best for your personal needs is the APR. Of course there is an APR range on each card and the APR you receive is based on credit worthiness. The Discover card offers the lowest APR beginning at only 10.99% APR and going to 20.99% APR. Chase ranges from 11.99% APR to 22.99% APR. Capital One for excellent credit begins at 12.99% APR but extends to only 20.90% APR. Citi starts at 12.99% APR and peaks at 22.99% APR. Blue Cash Everyday and Capital One for average credit range from 17.24% APR and 17.90% APR to 22.24% APR and 22.90% APR each. Unlike the others, the Shell gas card has a flat interest rate of a staggering 23.90% APR.
Acquiring a gas card to fund gas expenditures during summer vacations is a wise decision if you are selective and know which features are best suited for your personal needs. If the card will only be used during the vacation, choosing a card with a low introductory APR that can be paid back without paying interest is ideal. It is also ideal to select a card that offers the most cash back and rewards for making gas purchases. Low fees and interest rates are another significant factor to consider. The gas cards discussed are some of the best on the market. But, before you make a decision, take the time to consider which of the multiple attributes best suit your situation.