Choosing the Right Prepaid Card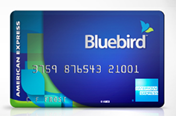 American Express and the biggest retailer Walmert have teamed up to bring forth a new prepaid product named Bluebird. This card is actually better than most of the prepaid cards on the market and works as a banking account in the way it can deposit checks and you withdraw at ATM's. This new prepaid card has changed the game by making checking accounts unnecessary and by eliminating virtually all fees.
There are many choices available when choosing a prepaid credit card. Selecting the right card for your needs can be difficult and confusing. Prepaid credit cards can be a good alternative to a traditional credit card. You get all the benefits and convenience of paying with a card, but no high bills at the end of the month. Many people do not have bank accounts, so a prepaid card might be an attractive way to still have a debit card. Carrying a debit card is safer than carrying cash. Even prepaid cards can be cancelled if lost or stolen. Prepaid credit cards make a good choice for people who are trying to reduce debt. Because they are prepaid, there's no high bill at the end of the month and you have total control on how much you add to the card and how much you spend. Here are a few tips to help you choose a prepaid card.

Activation Fees
Pay careful attention to activation fees when selecting a prepaid card. Some cards have no activation fee while others charge a fee every time money is added to the account. If there is a fee to add money to the account, it is best to add a large amount at once rather than many smaller deposits.
Monthly Fee
Many prepaid credit cards have a monthly fee to use the card. The amount varies by the issuing company, but is usually $5-10 per month. Every card has a different monthly fee, so this should be one of the first things you look at when choosing a card. The monthly fee can vary based on what the balance is and how often the card is used. Some card issuers will waive the monthly fee if you deposit a certain amount each month. Try to find a card with a deposit amount lower than your monthly income to avoid paying a monthly fee.
ATM Fees
Although using a credit card is convenient, there are times when you will need cash. A prepaid credit card can be used at any ATM for a fee. The prepaid card's issuing bank charges a fee of about $3 each time you use an ATM to withdraw money. The ATM will also charges a fee in addition to the card fees. One withdrawal can cost about $5. Some prepaid cards will give you one or two free withdrawals. Some even have a network of ATMs where you can withdrawal cash without any fees.
Bill Pay Service
One popular reason people choose a prepaid credit card is the ability to use it like a checking account. With a debit card, it's possible to pay bills online to save time and money. Some issuing banks have a bill pay program where you can enroll to pay your monthly bills such as gas, electric, water, or cable bills. Avoid prepaid card plans that make you pay to use a bill pay service. You're already paying for the card each month and paying your bill amounts. Do not support a company that charges you to pay your own bills.