Let's Have a Kiki: Rewards Application Party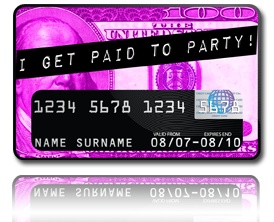 Not sure how cheesy I can get with this but I threw myself a party today. No it was not your drinking party or even a birthday party but it was an APP Party. You may ask yourself what on earth is an APP party? Is this where you download iPhone or Android apps for hours on end until either the memory on your phone is maxed out or until your batteries are dead? No, it is actually a party that I have with myself every three months or so and it is what gets me free trips and free hotel rooms and earns me tons of cash back throughout the year in bonuses.
I feel that it is a Kiki that I actually come out ahead on instead of a party you show up at and you have a hangover the next day. You have to do this Kiki right though because if you mess this up you will end up with credit problems or disturb the credit card Gods such as Chase, Citibank, and American Express. My APP party consisted of me applying for credit cards that I plan on earning big bonuses on. I have piled up all of my credit card offers I have received in the mail to wait for this day that I could apply. You have to make it over 3 months in most cases to have this application day like this. Then churn cards and apply again in some cases. You could also do this twice a year or even once a year but I found out that I can apply for 3 or 4 cards each time in ONE day as long as the applications go through the same day it does not disrupt my credit.
The cards I applied for today were hotel, cash back, and air miles, and business cards. There are many reasons I picked these cards and I certainly hope I get approved for them all. I do not see any reason I would not because I have great credit but we will see. My last APP Party was about three and a half months ago where I applied for a US Bank 1-2-3 Kroger card which gives me 25 cents back on gas purchases for 3 months (no longer need this card after that), British Airlines card which gave me 100,000 Avios Points bonus, and a Citi Thank You Preferred Visa which gave me a $150 bonus.

This time around I am getting a bit more strategic. I have applied for the Chase Ink Plus
Business credit card
which has no annual fee the first year. I already have a INK business cash version of this card but I want this one for the $250 bonus offer and the chance to get 5% back on Office stores. The reasoning for the office store cash back is because of what I have read in regards to using a credit card for purchases for gift cards or Vanilla Reload cards. You can purchase these then earn 5% back with the Chase INK card at Office Depot locations. You then use that reload card to LOAD money onto a new
Bluebird Card
from American Express. With this you can pay any kind of bill from tuition, mortgages, car payments, rent, or even other credit card bills. You can also use the ATM fee-free at a large sum of ATM's across the country including inside Walmart and Sam's Club with this Bluebird Card which acts similar to a bank account. You should be able to do this around $1,000 a month and this would really help with paying things like Taxes and other things you cannot pay normally using a credit card but yet you are using one indirectly. If you do not own a business you still may be able to apply for any business card by using your SSN for the Tax ID and full name for the name of the company. This normally works for bloggers and at-home-moms and at-home-dads running a business.
The next card I applied for is the US Bank Cash Plus Card. This has to be one of the most amazing cards I have ever seen offered and surprised no one is talking about it. I made a post on another personal finance site and no one really seemed interested. Perhaps because it was not a bigger bank or maybe people thought the card was not available in their area because they did not have US Banks in their area? I am not sure the reason but I still tried to apply for the card and will let you know how it all works out. This Cash Plus card offers a full 5% on two categories of your choice each month and offers other great incentives to use the card such as a Earn 2% cash back on gas, groceries or drug stores, and 1% on everything else. This beats the pants off of other cards.
I just had to be greedy once again and demand another card and this one approved itself without saying I would be notified. The Delta Skymiles credit Card from American Express. This card allows you to get a 30,000 mile bonus when you only spend $500 on the card. I normally always have an airline card as part of my portfolio mainly for flying first class or upgrades on international flights if not free flights from now and then. You also get to check your first bag for free using this card up to 9 passengers.
This sums up my secured keyboard strokes today. I am really excited for the Cash Plus card and am hoping to use that card the most. I have had the Delta Airlines card before but I am churning it from a few years ago so lets hope I still get my miles in my account when I spend $500. We will see how this turns out and until the next APP party! Cheers!