Frugal Halloween Costume Ideas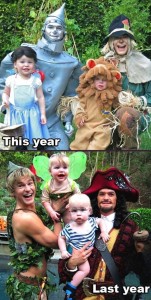 An escape from today's economic reality may be one word that may actually help stimulate the economy…Halloween which has turned out to be a retailers dream this year instead of last years nightmare. On average we are expected to spend around $66 each on costumes including all the decorations we are placing outside our homes which is up almost 20% from 2009. If you aren't sure what to do for Halloween this year, you don't have to resort to being a ghost and throwing a sheet over your head. Halloween costumes are better than ever; from silly homemade projects to upscale boutique outfits, check out these trends.
See a blog with 2016 Halloween Costume Ideas here.
Wizard of Oz- Whether your kids are going trick-or-treating with friends or your family is invited to a spooky Halloween party, group costumes are a popular theme. Try dressing as characters from the Wizard Oz. Girls can put their hair in pigtails and dress in a plain blue dress to be Dorothy. Just don't forget the red shoes! Any gender can dress as the Tinman, Cowardly Lion, and the Scarecrow with monochrome clothes and a little face paint.
Frozen and Avatar have both now been blockbusters in theaters – so Avatar costumes were a trendy Halloween costume for 2010 now this year we will see everything Frozen. If you have a significant other, you each can dress as Jake Sully and Neytiri. The guy should dress in normal clothes but cover his face and hands in blue face paint, while the woman should wear tight blue clothes and cover her face in blue face paint.
Sexy sailor- This is another Halloween costume that works either as an individual or as a couple. For a sexy sailor costume, dress in tight white clothes and tie a small navy blue scarf around your neck. Buy a sailor hat at a local craft store and write SS Sexy on the front with a permanent market. This outfit works for either gender, but it's especially dramatic as a His and Hers costume. We found some of the hottest guys costumes here.
Witch Tea- Although witches are a classic Halloween costume, it's hilarious when men dress up as a "scary" witch. Just wear a frumpy dress, don a scraggly wig, and carry a broom. For added effect, use face paint as makeup to add fake warts and extra wrinkles. This year the Witch may be back with Christine O'Donnell running for the Delaware Republican Senate in this Fall's election. Another idea is to have all of your friends become tea bags or tea cups and that goes back to Lady Gaga carrying around a tea cup but in this case a tea cup for the tea party.
Hippie-The 60s and 70s flower children have made a comeback just in time for Halloween. Long, flowing hippie skirts were a big hit in Spring 2010, and they are expected to show up in Halloween costumes as well as women incorporate their own pieces into their costume to save some money. Along with the hippie skirt, tuck a flower behind your ear, and cut some fringe into an old long sleeve shirt to complete the look.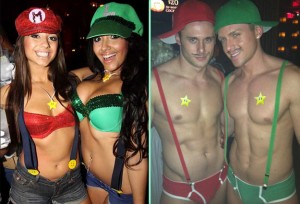 Pirate- The last Pirates of the Caribbean movie came out a few years ago, but that doesn't stop fans from reliving the magic on Halloween. Pirate costumes are a trend that's here to stay, partly because they are so versatile. Pirate Halloween costumes can be sexy, silly, or scary, depending on your accessories.
Mummies- No Halloween would be complete without a healthy dose of scary Halloween costumes. You can buy an intricate mummy costume from any specialty Halloween store, or make your own with an outfit of white clothes and pieces of toilet paper hot glued to the clothes. Cover your hair with baby powder, and use face make up to look like a "real" mummy.
Death- The Grim Reaper is a classic Halloween costume, but it shows no signs of fading away in 2010. Try it out with a black outfit and a plastic scythe from a Halloween store. A black hoodie is best to cover your head. Use white face paint around the eyes to look especially creepy this Halloween.
Ketchup- This is a creative costume that is gaining popularity. Wear a red monochromatic outfit and spray paint a traffic cone red. Use the cone as your hat, and paint a ketchup brand name across your chest so people get the hint.
Politicians- Sarah Palin and Hillary Clinton masks are trendy this Halloween, just like George Bush masks were hot a few years ago. Depending on your political views, you can buy a politician mask and dress accordingly. Do you want to be a sexy Sarah Palin or a Hillary Clinton in a business suit? The choice is up to you.
Lady Gaga seems to be dominating all costumes this year especially for the gays you will see lots of boys dressed up as the Pop Princess. She is outselling Michael Jackson's costumes from 2009. My award for the best costume would be something political though towards the actions of BP such as the BP Costume depicting a dead fish covered in oil and possibly even a dead dolphin with the BP logo. Hey, its all about getting creative!  I think the new afro wig look she is doing with Tony Bennet in their Jazz sessions may be a good look with a taste of retro to it.
Your Pets– Around 11% of consumers are expected to spend on this Costume. Now this is the funnest part and maybe the hardest part. The top sellers seem to be Halloween pumpkins with four legs, hot dogs, bees, and witches.
Just make sure you do all of this in a frugal way and find some discounts or coupons online before doing any shopping. One thing about Amazon.com is that it is tax-free but not free shipping. We found a costume shop that has free shipping here.