Male Version of Hooters called "Roosters" Coming to Select U.S. Markets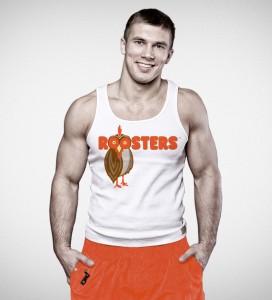 Hooters announced plans to introduce a fresh restaurant concept called Roosters. A Hooters type dining experience with an all-male wait staff. You can still get your fresh, never frozen, world-famous wings to mouth-watering burgers and fan-favorite fried pickles—all served up by the soon-to-be iconic Roosters Boys. It's almost like a Hamburger Mary's but unfortunately no drag queens.
According to a press release from Hooters they extensively surveyed its existing customer base as well as potential new customers throughout the U.S. A whopping 74 percent of participants reported they would "definitely" or "very likely" frequent a Roosters-type concept.

"When the opportunity to expand the beloved Hooters concept came about, we jumped at the chance of answering the call from men and women across America," said Andrew Pudduck, vice president of marketing, Hooters of America. "With such an overwhelming interest, I can't believe we didn't capitalize on the demand sooner; but now the people have spoken and we have responded: Roosters Boys are here to stay!"
Hooters was first incorporated on April 1, 1983 and more than 30 years later the iconic brand will spread its wings with this new venture, Roosters, on April 1, 2015. Consistent with the Hooters experience, guests are invited to escape the ordinary at Roosters with an amazing variety of craft beer, wine and cocktail options, comfortable seating and state-of-the-art AV system.
Roosters site selection is in progress in priority markets, including Augusta, Georgia; Lexington, Kentucky; Lansing, Michigan; Madison, Wisconsin and Durham, North Carolina. Just judging from the test markets we can assure you they are just teasing us for an April Fool's Joke but hey this is a great idea. We would recommend trying Dallas, Wilton Manors, West Hollywood, Boystown Chicago, and Hells Kitchen.
Update: Apparently there really is a male breastraunt coming to Dallas soon called Tallywackers. It opens in the gayborhood in May 2015.