Free Postmates Deliveries For Pride Weekend
Our favorite food (and anything you want) delivery service Postmates has a pretty cool promotion for this Pride weekend. This is one food delivery service that does not shy away from generous promotions and we are glad to see them supporting the LGBTQ community with this one!
If you click on the "Pride" section when making an order, you will be given a collection of restaurants you can order from where the delivery fees will be waived. If you are new to Postmates then sign up with promo code 478n and get a $100 delivery fee credit good for 7 days.
For example, here's the list of places available in the Pride section for New York City.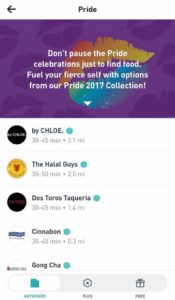 Also, if you respond to them on Facebook, Instagram, or Twitter with #PrideFTW they will donate $1 to the Human Rights Campaign.
Tell Postmates what Pride Means to You with #PrideFTW @Postmates & they'll donate $1 to the HRC for every post!