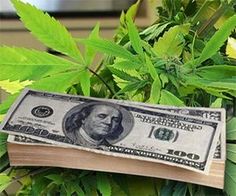 The fight to legalize marijuana for recreational use in the United States is finally getting closer and closer to it's tipping point. Bill Maher claims this is the new 'Gay Marriage' issue although we are still fighting for gay rights. Most Americans are starting to agree that we should not only have our civil rights but freedoms to grow any plant we want to use for at least medical purposes. A recent Gallup poll found a solid majority of Americans in favor of legalizing the drug and The Department of Justice recently said it won't interfere with Colorado and Washington.
We have the Republican President Nixon to thank on declaring a War on Drugs but that may be coming to an end soon. This makes way for a lucrative business opportunity for investors and entrepreneurs. This could also make way for a huge tourism industry.
Legal marijuana is a $1.4 billion industry and is one of the most rapidly expanding markets in the United States. Arcview Market Research predicted the industry has the potential to reach over $10 billion within five years and experience growth outpacing that of smartphones in a recent study.
This would be a major economic change in the United States and has the potential to disrupt many long-standing industries.
Who will profit and be the winners in Pot Legalization?
Marijuana sellers
The most obvious profit center from the legalization of marijuana is the cultivation and sale of the plant to consumers. Since pot is currently outlawed at the federal level, it's difficult for economists to pin an exact figure on the size of the black market. However, Harvard economist Jeffrey Miron has estimated the overall size of the marijuana economy, which includes both illicit sales and legal ones made in the 21 states (including Washington, D.C.) that allow medical marijuana, at around $20 billion per year with the majority share going into the black market. A 2006 study out of George Mason University put annual domestic cultivation at somewhere in the neighborhood of 22 million pounds. Read the rest of this entry »