Best Places to Set up Gay Wedding Registry
Creating a Registry for Same Sex Marriages
Getting married is one of the most exciting, yet confusing, times in a couple's life. There is so much to think about that, at times, you feel like you are going to go crazy. You have to think about the venue, food, drinks, invitations, and the logistics of planning a big party. Although same sex couples work in these tasks in the same way as traditional couples, there may be some smaller aspects of a wedding that are a bit different. The following is a comprehensive guide to how to set up a wedding registry for a same sex couple.
Tackling a gift registry may be a bit tough since the classic view of marriage being between a man and a woman still prevails fairly often. The first step you need to take is to decide what type of registry you want to create. Maybe both of you fall in the traditionally male or traditionally female category, and you want your list to reflect that. Talk with your partner and decide whether you want to go the route of stocking your home with practical stuff or the non-traditional route and do something different.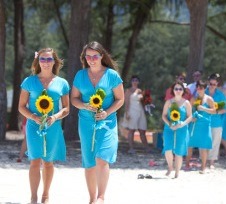 One place to consider registering that doesn't require you to fill out information for one person being a bride and one person being a groom is a website called Honeyfund. This is a less traditional type of registry where people contribute toward experiences instead of items. The fund is not only for a trip, but also for the experiences within the trip like dinners, excursions, etc.
Another popular option for couples is to Create an Amazon Wedding Registry. On Amazon you don't have to limit yourself to only home products or anything else because they list nearly everything that you could ever imagine. It's easy for your guests to use, and the site takes the items off the registry as they are being purchased so that two people don't buy the same thing. The great thing about Amazon is the option to find items and add them to your wish list and you can basically find anything on Amazon and most everybody and their aunt uses the #1 web retailer.
Another non-traditional style gift registry idea that is becoming more popular is to register with some of your favorite charities so that wedding guests can contribute gifts to non-profits instead of you. One company who does this is called the 'I Do Foundation', so maybe your guests could contribute to a fund that works to support gay rights like the Human Rights Campaign.
No matter what type of registry you choose, the most important thing is to discuss everything with your partner so it's all out on the table. Also, make sure to put items of all price ranges on the gift registry so nobody feels pressured to spend an entire paycheck on you. Have a look at some of these options that we discussed, and you won't go wrong. Most importantly, enjoy your big day.
In deciding where you want to have people spend money on your big day you may also want to consider supporting businesses that support us. Also, check out our wedding resources from some of the experts in budgeting and lgbt marriage: