Should LGBT Boycott Fire Island Pines & Out NYC Hotel?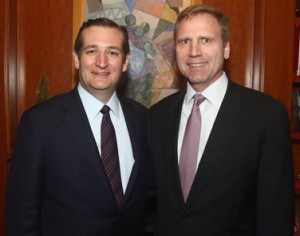 It seems each week there is another boycott to partake in from Chick-fil-a all the way to what toilet paper we use. I'll get back to the toilet paper as I feel it is the most important thing to actually boycott right now. The big boycott right now goes to Mati Weiderpass and Ian Reisner and their properties as they are longtime gay business partners and owners of OUT NYC Hotel and 80% of the commercial property on Fire Island Pines. The gay businessmen played host to notoriously anti-gay presidential hopeful Sen. Ted Cruz this week and are getting a huge backlash from the LGBT community.
The New York Times reported that Texas Sen. Ted Cruz, one of the Republican contenders for the 2016 presidential nomination held a dinner and "fireside chat" at the Central Park South home of gay hotel moguls Mati Weiderpass and Ian Reisner. One side note is that their home and the location of Cruz's "fireside chat" is the same 230 Central Park South address that 23 year old gay man Sean Verdi was found dead in a bathtub six months ago.
Some things its probably best to do in private like eating at the gay hating Chick-fil-a or meeting with anti-gay Republicans. Weiderpass posted photos of Cruz in his home on Wednesday night on Facebook. Imagine seeing the owner of your gay bar posting selfies with the devil himself Ted Cruz going across your news feed on Facebook or Instagram. I can understand their being a backlash but lets dive a into this. Should we really boycott basically all of Fire Island Pines and cancel our summer vacation or cancel our OUT hotel reservations in Hells Kitchen?
In response to the proposed boycott of Fire Island Pines and the Out NYC Hotel, Reisner emphasized that he's a big supporter and activist for gay rights in a HuffPost interview:
"I was given the opportunity to have a candid conversation with Senator Ted Cruz on where he stood on issues including the state of Israel and national security, which are the only places where we share common ground. It was just three months ago that I hosted a 'Ready for Hillary' event for a record turnout of 900 people at The OUT Hotel. Senator Ted Cruz and I disagree strongly on the issue of gay marriage, but having an open dialogue with those who have differing political opinions is a part of what this country was founded on. My tireless support of the gay community and its causes worldwide has not changed and will not change."
Weirderpass also clarified that he is behind gay marriage fully, and has been a major supporter of gay charities for two decades saying:
"People on both sides of the aisle need to be able to communicate with one another even when they ideologically disagree. As a Captain in the Army, I worked tirelessly for the repeal of 'Don't Ask, Don't Tell.' While serving on the Board of Directors for the Servicemembers Legal Defense Network, I needed to reach across the aisle to make that happen.
The fact that Senator Cruz accepted the invitation to my home was a step in the right direction towards him having a better understanding of who I am and what I believe in. We spent most of the time talking about national security issues and in particular the challenges from ISIS, Iran and the defense of Israel — these are issues for which we did find common ground. However, I did not shy away from the opportunity to ask the Senator about social issues, in particular marriage equality and made it clear that I completely disagree with him on that issue."
The Obama administration has recently tried to work out better relationships with Iran and Cuba and bring more peace to the world. Even though someone is your enemy or you have huge disagreements it is sometimes good to have a conversation and try to build a positive relationship. Maybe this will actually help Ted Cruz spew less hate towards gay people now that he has meet up with a gay businessman who is highly successful. Am I wrong for seeing this as a bad thing? I think to pass judgement on this meeting and boycott the gay hotelier is going about this the wrong way. He had his backlash that may be enough. We just hope he really did mention gay marriage and rights with Ted Cruz. The problem with Ted Cruz is he doesn't have enough gay friends to show him that we are good people and were born this fabulous.
I also find a problem with the boycott Facebook page:
"We don't need the Pavilion. We don't need the Blue Whale. We don't need the Botel. And we don't need Low Tea or High Tea. We have worked way too hard to get to this moment in history."
How can they speak for everyone to say that we do not need gay events such as these. What about the employees that work there and the bartenders who depend on us to attend these events. Please think of the hard working employees at these events before boycotting it completely not all the money goes 100% to the owner. Just saying. Furthermore, we have gone so politically correct lately that its good to open our minds to others views as long as they are not taking away our rights (of course).
Who should we be boycotting???
We have done numerous posts on boycotts and they will pay off over time including an App to download for your iPhone.
Some of you out in California are already paying the price by rationing water feeling guilty for flushing toilets. Mainly due to the Republicans holding back alarmists on global warming and us paying the price. It also time we ban toilet paper as well. Certain brands of toilet paper that is the ones owned by the Koch brothers. They are the ones who would be funding Ted Cruz on a major level or any republican such as Jeb Bush or Scott Walker. Here is a list:
-Angel Soft
-Brawny paper towels (I buy Sam's Club or Costco because they are cheaper and not directly giving money to the Koch brothers)
-Dixie cups napkins & plates)
-Insulair cups
-Perfect Touch cups, paper products
-Quilted Northern
-Sparkle paper towels
-Stainmaster
-Vanity Fair napkins & paper towels
-Mardis Gras napkins
-Zee Napkins
-Georgia Pacific products